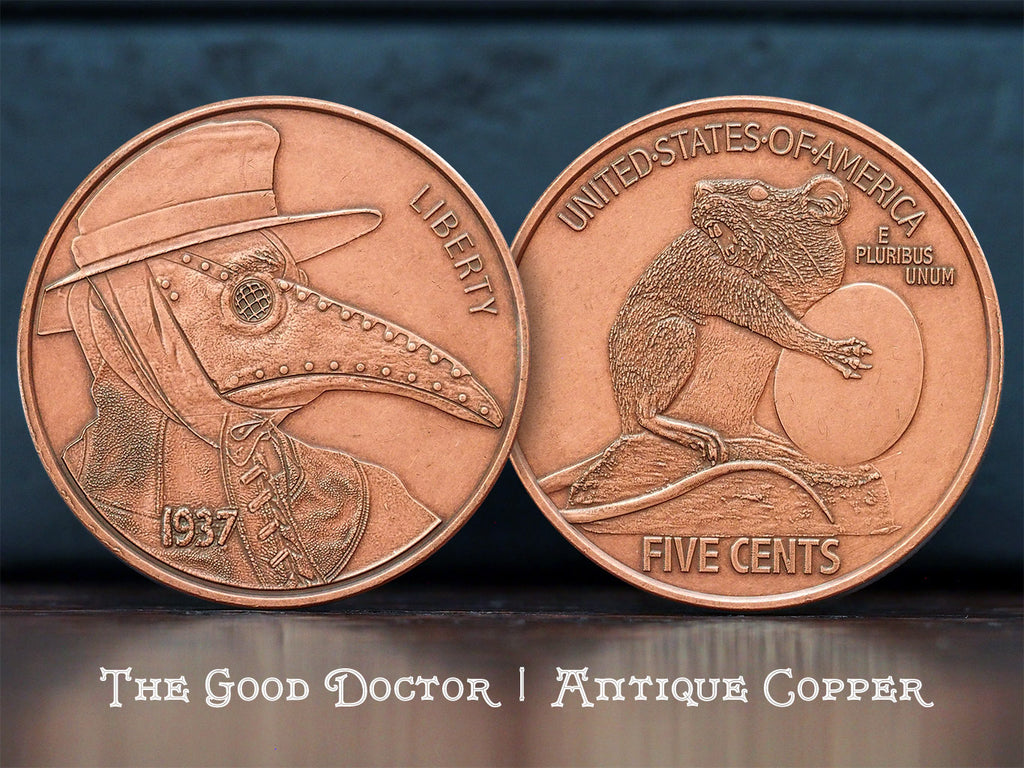 $8.99
Hobo Coins Series II - The Good Doctor
Hobo Coins are die-struck coins that reimagine classic US coins with new designs.
'The Good Doctor' - 1937 Buffalo Nickel 
My take on the classic 'Plague Doctor' updated with an industrial age motif and featuring a fearsome rat (the source of the plague and its spread) guarding its prize. This is no mere Templeton! Aged with an antique silver-finish. As with all the coins, this is a 39mm die-struck, hefty 10 gauge coin. This coin will have a smooth edge like the Buffalo nickel (smooth edge).
Each coin weighs about the same as 5 US. quarters, and are a little larger than the size of a US Dollar coins. Die-struck with over 100 tons of pressure in solid metal alloys and featuring a variety of finishes as shown. Also available as a set of four antique-finish coins. It's important to note that the brass-plated steel coins are a little thinner than the other finishes (12 gauge), but can be used with magnets.
Please note that Hobo Coins are not actual US currency or modified US currency coins, they are die-struck new coins at different sizes, weights, and with different art than actual US coins.