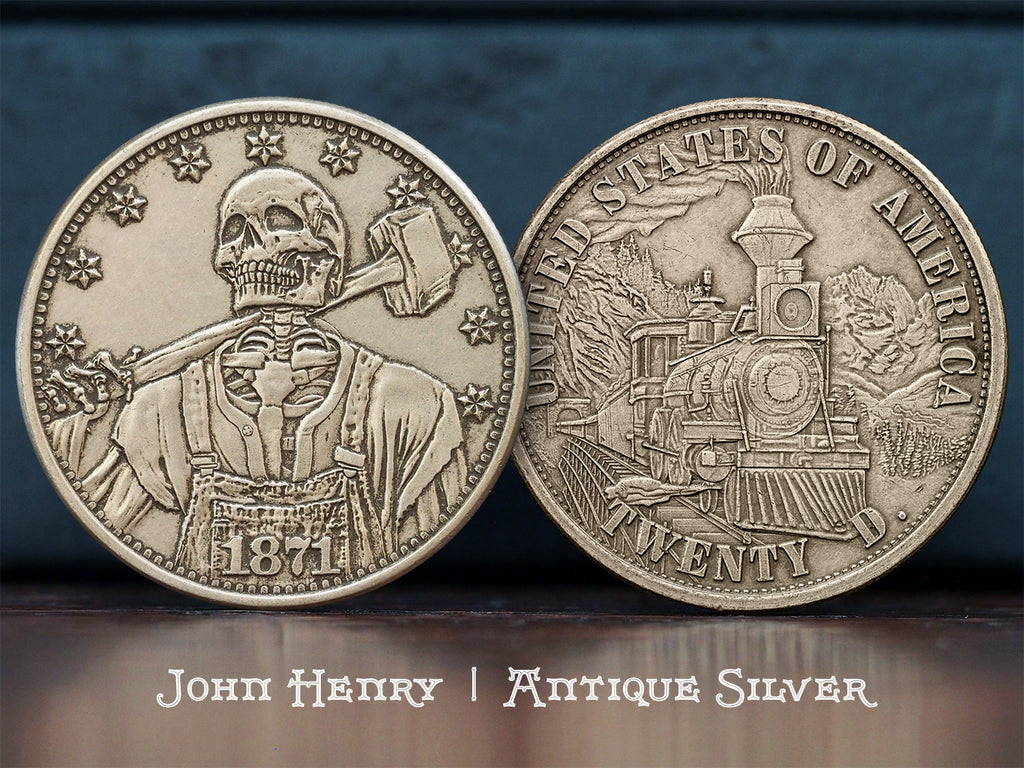 $8.99
Hobo Coins Series II - The John Henry
Hobo Coins are die-struck coins that reimagine classic US coins with new designs.
The John Henry - 1871 20 Dollar Coin
Folk hero John Henry immortalized in metal. Around 1870 or '71, John Henry raced a steam-powered hammer on the C&O train line and won! He did, tragically, die soon after from exhaustion, but his spirit of determination lives on this Hobo Coin! Aged with an antique silver-finish and as with all the coins, this is a 39mm die-struck, hefty 10 gauge coin. This coin will have a 'reeded' edge like the original 20 Dollar coin.
Each coin weighs about the same as 5 US. quarters, and are a little larger than the size of a US Dollar coins. Die-struck with over 100 tons of pressure in solid metal alloys and featuring a variety of finishes as shown. Also available as a set of four antique-finish coins. It's important to note that the brass-plated steel coins are a little thinner than the other finishes (12 gauge), but can be used with magnets.
Please note that Hobo Coins are not actual US currency or modified US currency coins, they are die-struck new coins at different sizes, weights, and with different art than actual US coins.